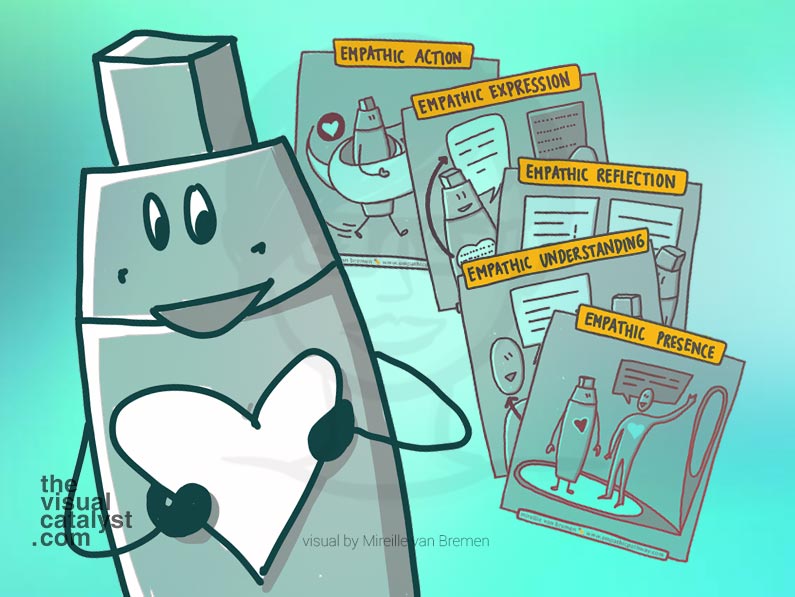 When you understand the five modes of empathy, you can start to see and appreciate the empathy you actually already experience but didn't recognize before.
Empathy is one of those large topics we can hear and read about a lot, yet I think many would agree with me, our need for empathy is often times not fulfilled.
During the years I was intensively trained in empathy skills, I found out that what empowers me the most, is the fact that we can experience a lot more empathy by choosing to be in a state or attitude of empathy ourselves.
The empowerment is found in recognizing the different modes of empathy and then choose which mode is most helpful in the moment. This helps you shift from awaiting something to change to anticipate on the situation with (self-)compassion.
As a visual practitioner there are plenty of situations where your empathy skills can help you make these shifts, experience more empathy, connection and synergy.
Let's have a look at five modes of empathy through some practical examples.
5 visual practitioner issues you can solve when you develop your empathy skills.
ISSUE 1 – YOUR THOUGHTS EASILY TAKE YOU AWAY
Empathic Presence:
No matter if you support group work or individual processes as as visual practitioner, being fully present increases the quality of your listening and ability to capture what matters to the group or the assignment you have been given. Beneath all modes of empathy, lies empathic presence. It is basically the foundation of empathy. Being empathically present starts with the mere intention to be present with another person's experience. That means you are able to park what is going on for you yourself. Yes, you may be affected by what you hear and it is vital that you acknowledge your feelings and needs in order to stay present. However, rather than to having your personal experience, barriers, beliefs and biases get in the way, give yourself empathy. Silently. Internally. Being empathically present as a visual practitioner, especially when I am in service as a graphic recorder, I make awareness for my feelings and needs an instrument to tune into the group. Unless it's for an urgent restroom stop, I don't actively anticipate on my personal needs during sessions.
ISSUE 2 – YOU FIND IT HARD TO RELATE TO THE TOPIC OR AUDIENCE

Empathic Understanding:

Offering our intuitive sense of understanding to the other person may happen without words. It's more of an internal experience of attunement to the other person's experience. As a visual practitioner I like to think of it as knowing who is in the room, of listening prior and during the session, of understanding their experience and offer visual language they can relate to. For that, I must research or explore their visual world and come up with visual metaphors that their brain can quickly process. Often times this is part of the preparation work. Taking time for this prior to session, helps to come up faster with visual in the moment but also is also helpful to become empathically present once the sessions really start.
ISSUE 3 – YOUR AUDIENCE GIVES MORE INPUT THAN YOU HAVE TIME TO WRITE

Empathic Reflection:

Especially when using harvesting techniques as a trainer, facilitator, coach or any kind of leader of a group, being able to empathically reflect can help reduce complexity, cluster responses or content and diminish the amount of information that needs to be written down. Often times people in the audience say the same thing in a different way. Reflecting back and verifying how close the essence of their message matches what someone else already said, helps to diminish what needs to be written down and reduce complexity. It also helps to harvest the essence of the conversation as a whole, making the harvest the voice of the group and less the experience of a single person.

ISSUE 4 – YOU LISTEN TO EVERYONE IN THE ROOM, BUT

YOU

DON'T GET HEARD

Empathic Expression:

This mode of empathy stands out a little from the others when I think of it of a visual practitioner's point of view. Since we are so much in service when we work as visual practitioners, we often don't get the chance to express how we are affected by what we heard. Depending on if we show up as a trainer, coach or facilitator, there may still be possibilities to express that. But as a graphic recorder there is very little space and often no relevance to express ourselves empathically. If you are a graphic recorder, I do like to encourage you to ask for a few minutes to express yourself in the end. Because graphic recorders are most of the time the silent witnesses in the room, they have a unique experience of the event themselves. The group often appreciates hearing from you how you are affected. In some way, it gives them a sense the have been heard and their work, their contribution had impact.

ISSUE 5 – YOU ARE NOT CLEAR WHICH NEEDS TO FULFILL BY EMPLOYING YOUR VISUAL SKILLS

Empathic Action:

There are multiple perspectives to look at empathic action as a visual practitioner. One of them is that visual support is already an empathic action in itself. Visual translation or visual aids can be indicators of understanding and care of the needs of visual learners in the room. Another way to look at empathic action is by anticipating on the needs present in the room with visual aids. Flipcharts can be an effective tool for visual facilitators to stimulate interaction, communication, connection, collaboration and many other needs that arise during sessions. In the essence, it's about being clear which needs your visual skills help to become fulfilled.
MAIN INSIGHTS

The different modes of empathy are …
INSIGHT 1 ⚡️ The mere intention to be fully present with the other person and parking our own internal dialogues, thoughts and stories aside is called empathic presence.
INSIGHT 2 ⚡️ Empathic understanding is not necessarily offered with words. It is an internal, intuitive understanding we have of the other person's experience.
INSIGHT 3 ⚡️ We verify with the other person if what we understood was matching their experience with an empathic reflection.
INSIGHT 4 ⚡️ An empathic expression lets the other person know how we are affected by what we heard.
INSIGHT 5 ⚡️ Empathic action is an indication of understanding and care for the other persons needs.
What would you identify as the modes of empathy you feel most comfortable with? Which one would you like to give more attention? Please share your thoughts in the comments. 
Do you want to learn how to create visual tools for your training?
Join the next visual empathy in person training on June 30 & July 1, 2022 in Rotterdam, The Netherlands. This 2-day training will help you to develop your visual empathy and trainer skills, enabling you to convey your message clearly and visually and to increase understanding and engagement during your training. Step-by-step. Easy. Effective.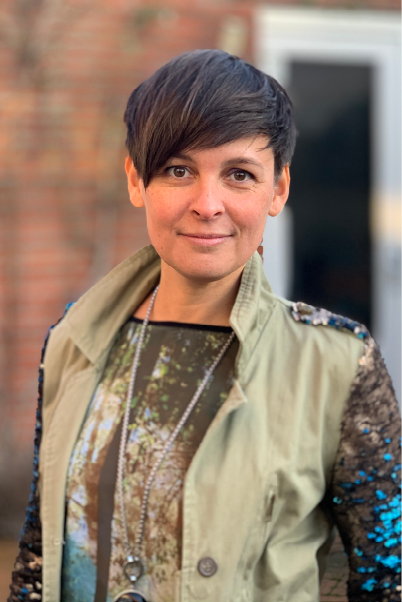 My name is MIREILLE VAN BREMEN

I work internationally, incompany and online, as a ...
◉
Visual Empathy Trainer and Coach
◉ Graphic Recorder, Illustrator, Designer
◉ Conflict Coach & Mediator
Learning organizations and training & development departments hire me to visually empower the communication strategies of their organization and/or train their staff in visual communication & presentation skills, so that more connection and interaction is established and the subject matter can be learned and understood with ease and pleasure.