Mireille van Bremen
Visual Translator
Visual Communication Trainer & Coach
The easiest way to connect with myself and others, has always been through visual language.
Only after I changed my belief from 'not good enough' to
'what I do is meaningful', I am able to do what I love.
Creating mental images by means of visual thinking and because of a skill I developed to visualize my own inner world and what I understand from others, visual language has become one of the easiest ways for me to deeply connect with people.
Because I am sensitive to the energy of others, it can be draining for me to spend time in groups and communities. Sufficient self-care and time in solitude to reflect on life and strengthen my self-connection, helps me balance between the two. Until some years ago though, my coping strategies were listening and any form of visual expression. When in overwhelm of emotions of others or conflict around me, I'd become an objective silent listening witness. I created images in my head of the dynamics playing out between people. I could not understand why they didn't understand each other. It was so easy for me to see what was going on. To cope with the overwhelm of being aware of emotions of others, I often spend my time in solitude, painting, illustrating and designing.
Visual expression has always been stimulated by my teachers in Waldorf school, my High School art teacher and later on also during two studies at the Willem de Kooning Academy in Rotterdam. Since 2012 I have followed nearly 100 days of Nonviolent Communication training and participated in multiple other communication and coaching trainings.
During these trainings I've experienced a large variety of facilitation, methodologies and didactic. Over time it appeared to me that not always the valuable contents come across participants. Also the many conversations with trainers from different fields, show that trainers often struggle to account visual learning types, 65% of the people, which eventually causes their participants to learn, engage and integrate less efficient. It is therefore much harder to get the results the trainer anticipated on. It upsets me that all the resources invested by everyone involved, do not lead to the possible results. What if the preparation, the training and the process is approached and facilitated in such way that all learning types, everyone's energy and resources are honored?
What you would know if you'd really know me
Because I am empathic and lead from my intuition,
I am often aware of unspoken intentions and power dynamics.
This makes it easy for me to put my finger on the sore spot.
Sometimes it is confronting for people that the clarity I provide, reveals something about their own impact and responsibility in a situation.
My perception on providing visual understanding
In my perception everyone and especially visual types, have true benefit of being visually empathized with to reach the level of understanding they deeply long for. The essence of what I do, is to bring clarity. The moment I notice a shift in others after I visualize what I have understood, my heart fills up with joy and enthusiasm. I help people see what they sensed emotionally or understood verbally, but could not fully express with words or gestures to be fully heard.
I am convinced talent is not a requirement to express ourselves visually. Using visual language is not about art. Everyone can develop a skill set and cultivate a mindset that surpasses the societal norms of visual expression not being accepted, unless it's art. When more attention is given and value attributed to the benefits of communicating visually, we increase the likelihood that we are on the same page and will consider the needs of everyone involved when making decisions. It's a no-brainer to understand that with synergy we experience more harmony, compassion and happiness in our lives.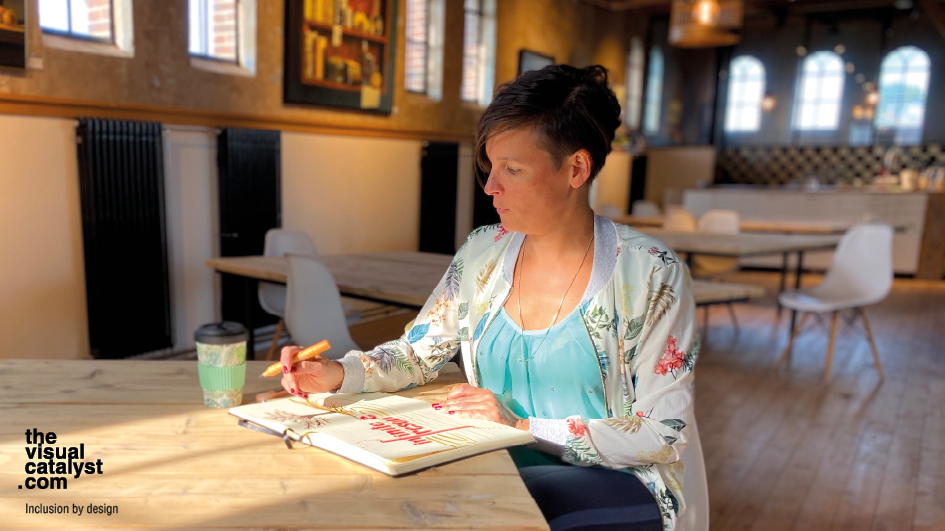 In my view the world has no borders, because I believe people go where their energy is drawn to. Expansion, exploration and curiosity is in my DNA. At the age of 16, I worked every Saturday, to buy myself an airplane ticket to California to stay with relatives and attend summer school for English and Art class. I am born in the multicultural city of Rotterdam in The Netherlands and am a descendant of the Dutch East Indies. Since 2006 I live in Slovenia.
When it comes to physical activities and spending time in nature, my son is my greatest inspiration. I'm delighted we share the same excitement for mountain biking and skiing. I like joking he is my sports coach, daily encouraging me to make the extra mile. Because he lives with me every other week, I dedicate most afternoons and the weekend to take up on activities together with curiosity for what I can learn from him.
I love creative and improvised cooking, always looking for ways to reduce food waste. I enjoy cooking for guests and have long table conversations about what sets us on fire. Although I love being with others, I am keen on spending time in solitude to paint, make long walks, play my piano, read and study anything that helps me create my path.
Depending on the culture, Mireille means Miracle, Mirror or Admirable.
Facilitate trainings, conversations, meetings, workshops,

Empathic listening

Capture the essence of a story, conflict, idea or plan with striking clarity

Visualise the bigger picture of ideas, concepts, models, processes, visions, plans, etc.

Generate new value & tons of ideas

Reduce complexity to what truly matters

Make the invisible visible & tangible

Art direction, Graphic design, Illustration

(Online) Marketing & Business
Bachelor in Arts (Illustration) of the Willem de Kooning Academy of Art, Rotterdam, NL

Bachelor in Visual Communication (Graphic Design) of the Willem de Kooning Academy of Art, Rotterdam, NL

Genos Certified Emotional Intelligence Practitioner

Training in graphic facilitation

Nearly 100 days of training in Nonviolent Communication by Marshall Rosenberg

Training in Conflict Resolution

Training in Empathic Listening

Training in (online) marketing

Training in Awakening Coaching Basics

Training in Empathic Coaching training

Theta Healing Basic DNA Practitioner
5 years owner of Studio LiEF – design studio based in The Netherlands

9 years Head of Design & Art Director in an internationally operating advertising agency in Slovenia

4 years owner of The Visual Catalyst – visual communication agency and visual skills training & coaching company based in Slovenia

Helped many entrepreneurs in being more impactful with their marketing & communications

Trained hundreds of trainers, coaches, facilitators, leaders, designers, project managers, lecturers and teachers in developing their visual & empathy skills

Created countless graphic recordings and sketchnotes for many events
Visual communication

Empathy

(Online) marketing

Graphic recording

Visual skills training

Training

Facilitation

Nonviolent Communication
Internationally

Live

Online

Dutch (native)

English

Slovene

German (with assistance)

Any other with simultanious translation
Contact The Visual Catalyst
Privacy policy
Disclaimer
General Terms of Use
Cookie policy