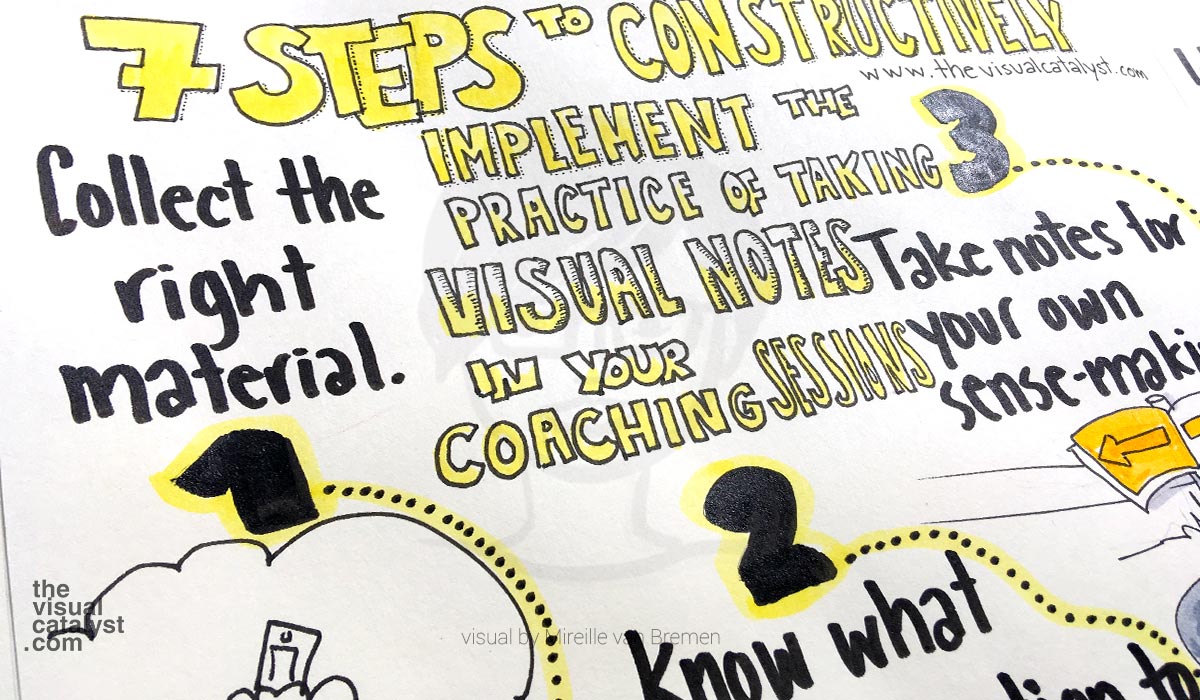 'How do I start making visual note-taking a practice?'

During the Visual Skills Summer Fest Slovenia a participant asked me this question. There is a difference between how to make the noting a practice and the practicing taking meaningful visual notes.
Today I'll lay out the 7 steps you can follow to when integrating the practice of of taking visual notes during your coaching sessions. And if you don't coach anyone, but take notes during conversations and want to share them with your conversation partner(s), these steps aren't really different.
Why I think it is important to first understand these 7 steps, is because you first create the path to succeed in your attempt. I am sure there are people who don't need to know these steps, they just need to know how to take visual notes. If you think you might give up on your practice, then this post is for you!
Follow these steps in the right order and give yourself a fair chance to succeed in your attempt to start taking visual notes.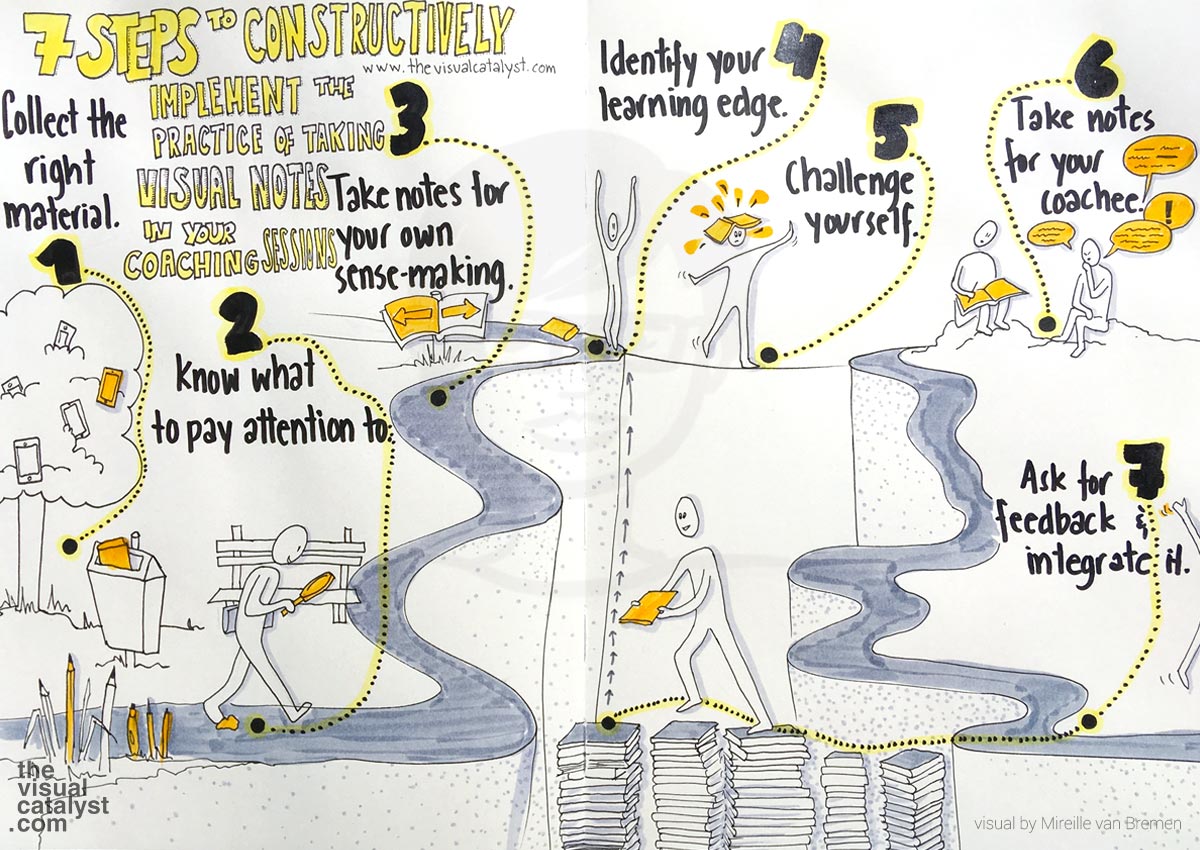 The 7 steps to constructively implement the practice of taking visual notes during coaching sessions



STEP 1 – COLLECT THE RIGHT MATERIALS
You actually don't need much: blank sheets of paper on A3 or A4 size or notebook with blank pages when you decide to have a notebook for each coachee. Markers in three different thicknesses and a bunch of colored markers – with a rounded nib or brush version. Lastly your phone to take photo's or a scanner app. That's all.
STEP 2 –

KNOW WHAT TO PAY ATTENTION TO WHEN TAKING NOTES
Why do you take notes? Start with making your objection clear and focus on collecting the essential content you filter from all of what you hear. Use as much space on the paper as you like and leave space blank to add anything later on.
STEP 3 –

TAKE NOTES JUST FOR YOUR OWN SENSE MAKING
Let your coachee know that you take notes for your own sense making and to unravel better what is really important to them. Addressing this clarifies for them why you sometimes don't look at them but at your paper. Once this feels comfortable for you, it is normal to them as well.
STEP 4 – CONTINUE TO IDENTIFY YOUR LEARNING EDGE
Reflect for a minute when you have taken some notes. Why worked well and what didn't? Appreciate yourself for making the practice! Always ask yourself to if your sense of feeling comfortable with he practice is growing.
STEP 5 –

CHALLENGE YOURSELF IN DEVELOPING YOUR VISUAL NOTE-TAKING SKILLS
What will you do different next time? What do you consistently do that doesn't work? Can you make a focus for a while on a strategy that is different, so you eliminate what doesn't work? Stay tuned for one of my next blogs with a practical approach to make practical choices about the elements you want to practice on!
STEP 6 –

START TAKING NOTES FOR YOUR COACHEE
Once you start to feel comfortable expressing yourself visually, speak visually on paper and you find your visual notes start to make sense, it's time to start them with the idea to give them (or a photo of it) to your coachee. If actually doing that still feels scary, don't worry. You won't need to tell them you are going to give it. Decide at the end of the session of you want to. And if that still feels to scary, don't just give it. Ask your coachee if it is useful or meaningful for them to receive or take a photo.
STEP 7 –

ASK FOR FEEDBACK AND INTEGRATE IT
From the very first moment of giving (photo's of your) visual notes, you might be curious how useful they are to your clients and what they actually do with them. Ask them about it. Also ask for feedback on the notes themselves. Is your handwriting readable? Is the use of colors meaningful or just pleasant – or not? What about the visuals, do they complement to the text?
MAIN INSIGHTS
1 >

 

Collect the right working material

2 >

 

Know what to pay attention to when taking notes

3 >

Take notes just for your own sense making




4 >

 

Continue to identify your learning edge

5 >

 

Challenge yourself in developing your skill

6 >

Start taking notes for your coachee

7 >

Ask for feedback and integrate it

Do you have a sense like these steps are doable for you?
Are you going to give it a try anyway?
Or if you already take visual notes during your coaching sessions, from which step can you still take advances?
Do you learn because you share knowledge with others and (want to) use digital presentations?
After this free program, the response of your audience on your webinar, meeting, workshop, lecture, training (video's), won't be the same!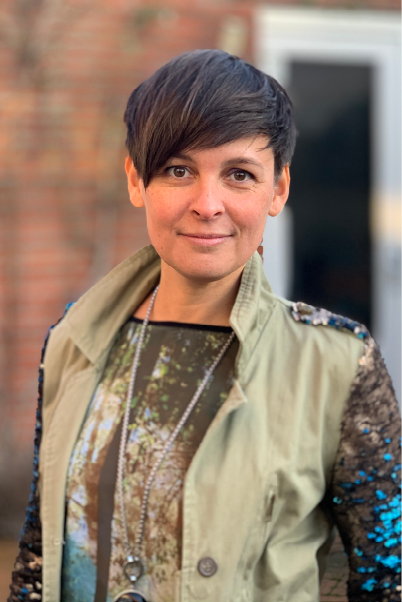 My name is MIREILLE VAN BREMEN

I believe that with empathy, clarity and transparency in our communication, we experience and reach more understanding, connection, inclusion, participation, leadership, creativity and trust in our relationships, communities and society.

My clients hire me to design infographics & visual summaries, illustrations and visual tools.
My participants join the online and live communication programs in my Online Training Platform
My programs help to increase impact by communicating both empathically and visually.