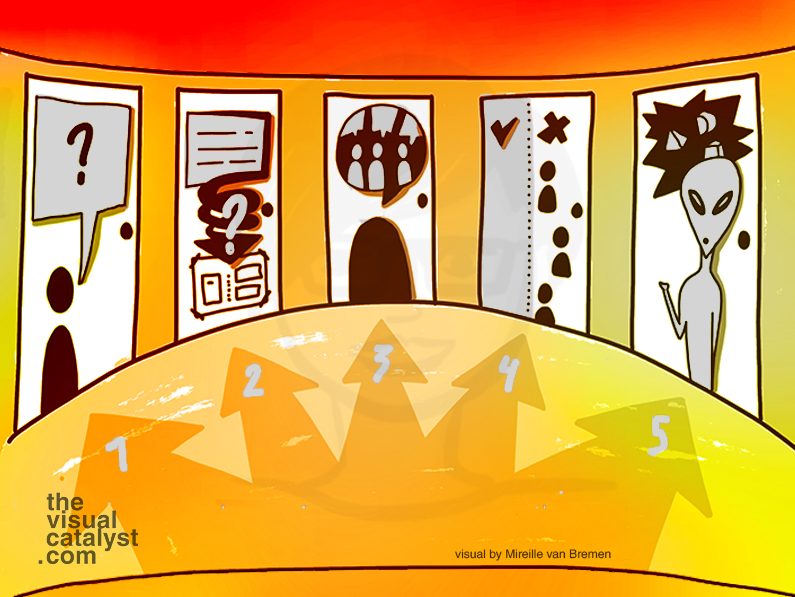 When you don't get the feedback you need to develop your visual tools and to expand your visual skills, then how do you assess your effort creating them was meaningful and your impact what you envisioned?
One of the keys development is feedback. Without it you continue to make the same mistakes, follow the same patterns and less pleasant, after time you might get unsatisfied about your work and eventually yourself because you don't do what is natural to our internal system: grow.
Why I find feedback so helpful is because when you integrate the information you receive, you increase your impact. Whatever you create serves needs of your users and supports the facilitation of your work. So the feedback helps you close the gap between these needs, the message you communicate and the matter you facilitate.
This article helps you uncover which of the 5 following keys open the door for you to the feedback you need to grow your visual skills & develop your visual tools: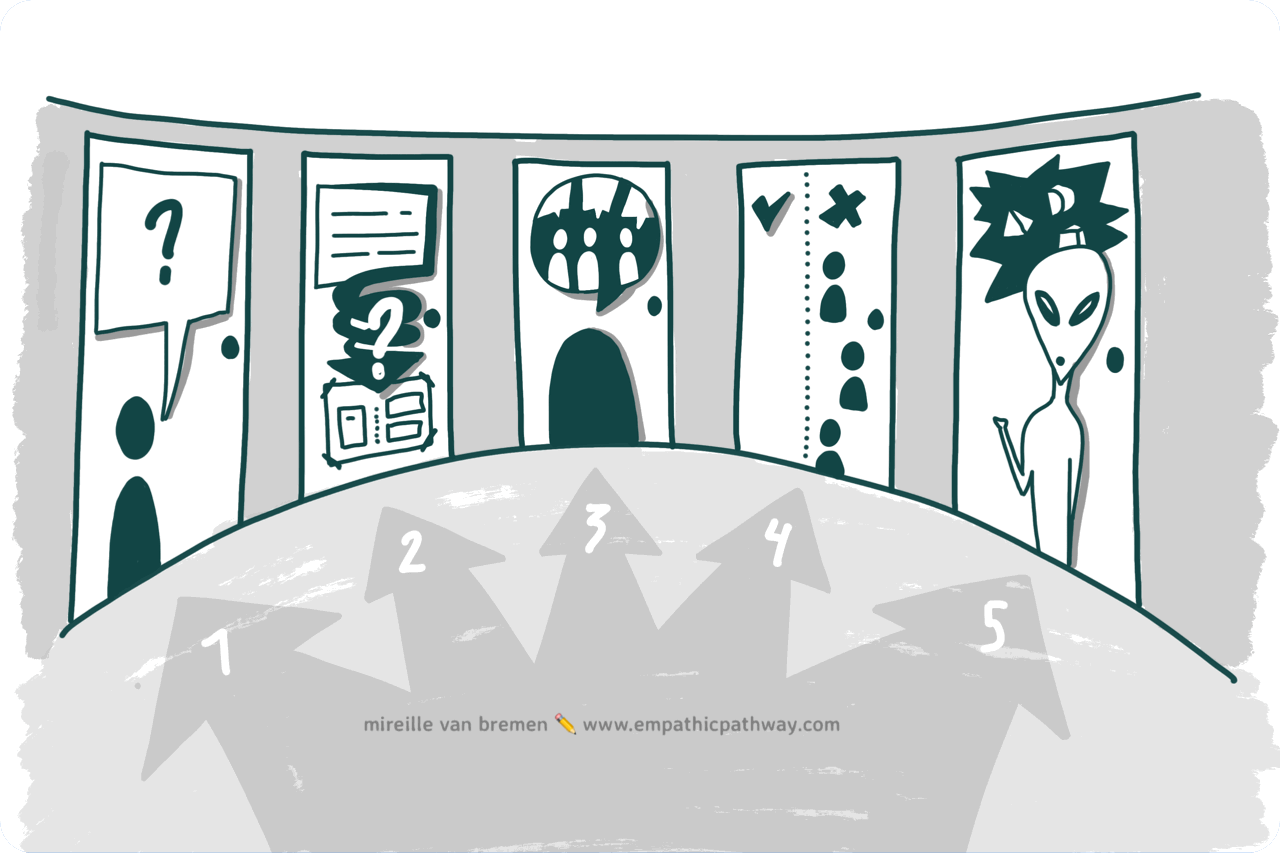 KEY 1 –  YOU DON'T KNOW WHAT KIND OF FEEDBACK TO ASK FOR

TIP:
When you create visual tools and want to know if they work well, you can ask questions. But what questions will help you get the information you need in order to make the adjustments to your creations? The key is to be utterly clear about the purpose of your creations, and what you want them to facilitate – for yourself and/or for others. With that information, you can shape powerful questions that help you inquire useful information.
KEY 2 – YOU ARE UNSURE HOW TO INTEGRATE FEEDBACK YOU RECEIVE
TIP:
So perhaps you did ask others for feedback but now that you have it, you don't know what to do with it. This can be a result of failing to ask one particular question: If I had considered your feedback in my creation process, what would be different about my Flipchart / presentation / tool? This would lead you to hear specific and visible differences that you can apply on your design.

KEY 3 – YOU TOTALLY DEPEND ON OTHERS FOR FEEDBACK

TIP:

Though feedback from others will help you uncover your blind spots, there is so much feedback that you could be giving yourself, if only you knew how. Grow a habit out of giving yourself feedback on the flipcharts, presentations and other learning aids you create so you are self-reliant and continue to grow your skills.
KEY 4 – YOUR NETWORK DOES NOT INCLUDE THE RIGHT PEOPLE

TIP:

In a way, almost anyone could give you feedback. But the most helpful feedback comes from either your users, probably your participants or clients. Another kind of person that can help you with feedback is the one who understand your work. They can be your peers, your mentor and your visual skills coach or trainer. They are the ones who challenge you in your skills and creativity because they understand it. If they aren't yet part of your feedback network, then grow a connection. Help each other grow and consequently your work will develop to make the highest contribution. 
KEY 5 – YOU CAN'T FIND THE RIGHT PEOPLE TO GET FEEDBACK FROM

TIP:

If you create visual tools for your participants or clients, then these would be easy to find right? Build in feedback calls, or customer surveys to get the information you are wanting. But is user feedback enough? Getting feedback from your visual skills coach or trainer, your mentor or peers means, means you will not challenged in your visual skills rather than making your work user friendly. Working with a visual skills coach or trainer and connecting with your peers additionally invigorates your creative energy and stimulates inspiration. If you don't know where to connect to these people, consider joining a visual skills training, find groups and networks on social media, start following peers and visual skills trainers and coaches, like me, or join festivals in which visual practitioners get together. Also, you can consider joining the Visual Retreat I am facilitating in Slovenia this summer. In this international, all-inclusive, unparalleled format we get the right people together for you.
INQUISITIVE QUESTIONS
Answer these questions to reclaim your power and identify your action step …
QUESTION 1 ⚡️ Do I get the feedback I need to grow?
QUESTION 2 ⚡️ Am I asking for specific suggestions?
QUESTION 3 ⚡️ Am I able to give myself feedback?
QUESTION 4 ⚡️ Who in my network do I or can I get feedback from?
QUESTION 5 ⚡️ How and where am I connecting with visual practitioners?
What comes up for you when you answer these questions?
Please share in the comments which key holds the largest potential for you to start getting or improve the feedback on your visual work.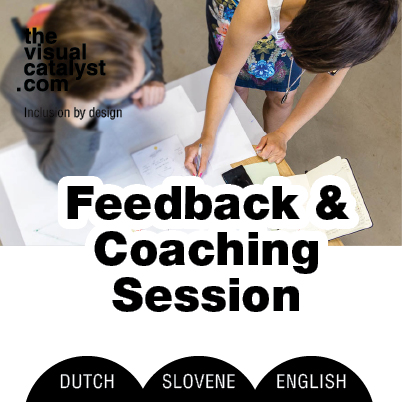 Receive feedback on your visual tools & get coached on your visual communication skills.

Gain a big amount of clarity and receive concrete, empowering tips to make modifications that increase your the impact of your communication and visual tools.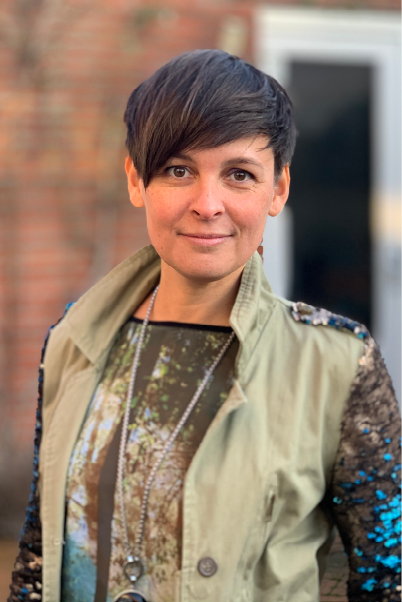 My name is MIREILLE VAN BREMEN

I believe that with empathy, clarity and transparency in our communication, we experience and reach more understanding, connection, inclusion, participation, leadership, creativity and trust in our relationships, communities and society.

My clients hire me to design infographics & visual summaries, illustrations and visual tools.
My participants join the online and live communication programs in my Online Training Platform
My programs help to increase impact by communicating both empathically and visually.