Make an unforgettable impression at your potential client!
And provide a visual report of your conversation and your offer!
IN THIS VIDEO I SHOWCASE THE CREATION OF A VISUAL SALES TOOLS
EVOLVES FOR A COACH
Together we develop your unique visual tool which helps you facilitate the conversations with your potential clients.
This way you bridge the gap between your client & your offer so they confidently say yes to it.

At the end of our work together, you have a tangible visual tool
with which you increase your revenue.
Your clients are pleasantly surprised how you present their siutation and future vision.
Besides you show how your offer enables them to get there.

This way the effectiveness of your sales conversations visibly increases.

"We make your offer crystal clear and transparent."
The skill you develop and which I show you how to use,
is to visually express yourself, your message, thoughts and ideas.
Especially your visually thinking clients understand you better and
consequently the impact of your communication increases.
Do you want potential clients to say yes because
• they fully trust you, and they
• see your offer is the right match for them?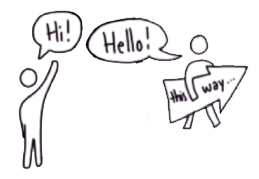 Building trust starts in the very first conversation.
By making the

journey

you take them on

visible

and
your

approach transparent,

your potential client can


imagine what to expect

from you.
This way you
1) instill trust
2) take away objections and

3)

refresh the memory of your client
with a visual report of your conversation.
That is a valuable gift, which off course
you send to your client
along with your general terms and your quote.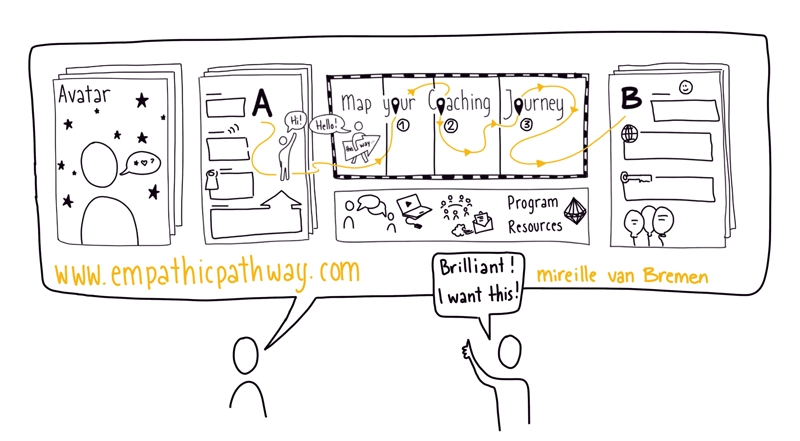 My name is

Mireille van Bremen and I work internationally as a visual catalyst.

Everything

I do as a graphic recorder, visual mediator, facilitator, visual skills trainer and coach, stems from an intention to invigorate creativity and empathy in order to catalyse potential, prevent conflict,

navigate change
and stimulate inclusion and learning.
After a career as a design department leader I nowadays work internationally as a visual catalyst to increase the impact of presentations, workshops, strategic meetings and conferences by providing visual translation and by teaching others how to communicate and facilitate visually.
The training programs I design and offer as live as in the online Visual Skills Training academy I founded, help trainers, facilitators, coaches, educators and leaders from all over the world to become resourceful and self-reliant in their communication so they can facilitate impactful dialogues.
In 5 steps we develop 'Your Visual Sales Tool'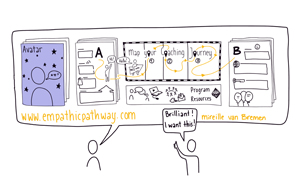 We form an image of your ideal customer so that you know exactly who your customer is, what their world looks like, how they communicate and how your program is a conclusive answer to their problems.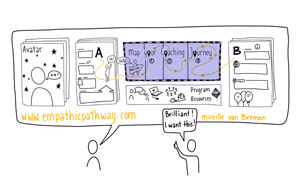 By visually mapping all the steps or segments, your offer becomes crystal clear for your potential client and you can show your them up front what you mean and how you enable them shift from their current situation to their future vision.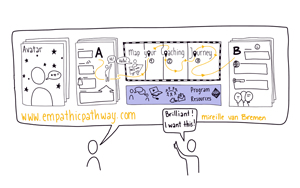 We identify which valuable resources (training, videos, 1-on-1 sessions, helpdesk, etc …) you offer to your client and which you both use to achieve the results you are working towards.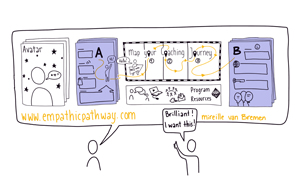 These are the tools we make and that you fill in during your conversations. They help you and your potential clients decide if you want to work together. You send them with your general terms and quotation. During your collaboration you make use of these templates to discern whether you are still on track to reach the goals.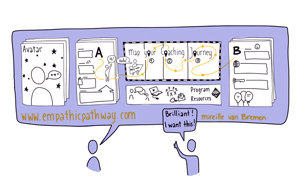 We implement all practical executions of your sales tool into your customer journey and we brainstorm on how you can use these tools in other ways.
This will strengthen the weak spots in your system and build a trustful bond with a satisfied customer who likes to stay with you.
• Way of work: online or online/live combination
• Dates according to individual agreement
• English or Dutch
€997,-
Free of VAT
Payment possible in 2 terms.
No drawing talent needed!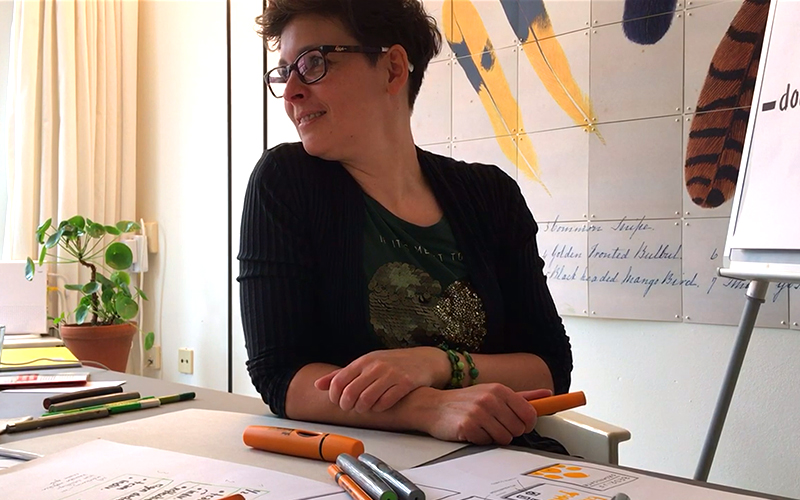 Individual

  Online of combination of live & online

  Workbook for preparation

  User license for the visuals I draw for you

  Dates according to agreement
In which language can we collaborate?
English, Dutch and Slovene, depending on the location, group or person.
Drawing... I really have no talent! Is that a problem?
Not at all. You don't need any talent not extensive drawing skills for this program.
My question is not listed. Can I contact you?
Sure! Send me your question(s) by email on
mvanbremen@empathicpathway.com
and provide me your phone number so I can choose in what way I can best respond to you.
• Way of work: online or online/live combination
• Dates according to individual agreement
• English or Dutch
€997,-
Free of VAT
Payment possible in 2 terms.
No drawing talent needed!