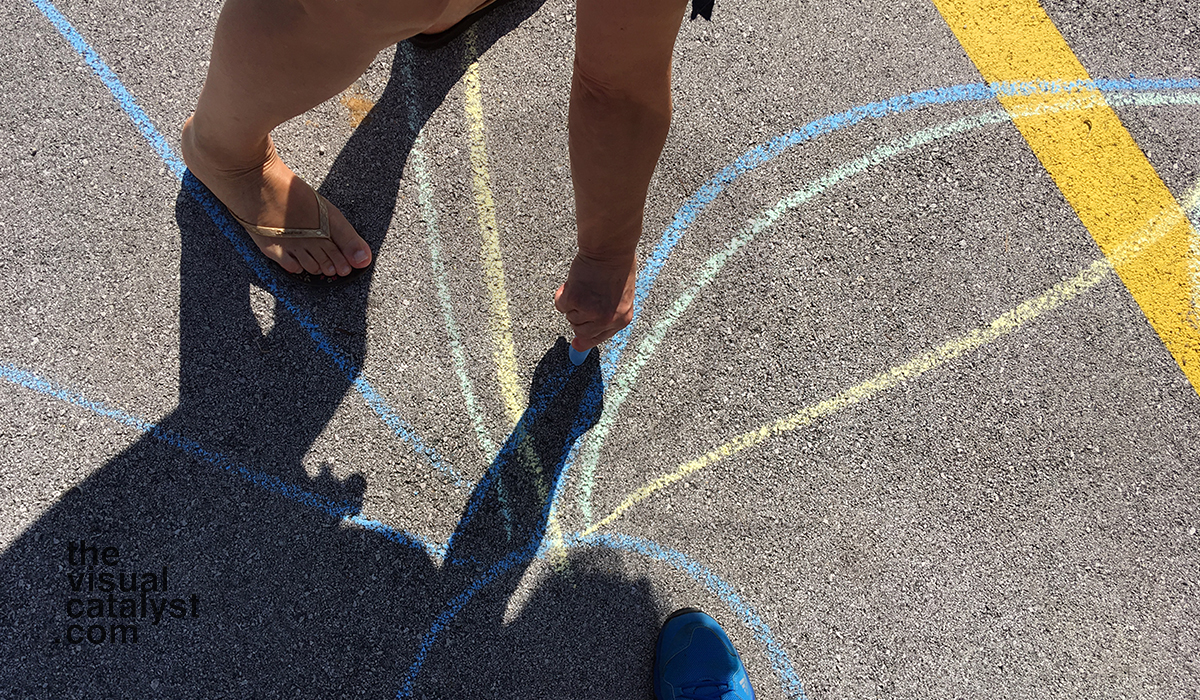 When you can't get your message across visually, you risk loosing your visually learning audience. And a lot of fun as well!

When I speak to former participants of any of my visual skills training, I hear either about the progress they make, the increased results they get with the visual aids they create or about the positive feedback they receive from clients and participants. Or, I hear about what stops them from practicing and not employing their visual skills as much as they would like.
Not employing visual skills is indeed not only related to the level of skillfulness or experience. ANYONE who picks up a pencil to express themselves visually can face many of the blocks that stop us from practicing or employing our visual skills all together. I guess you are reading this message because you like to learn more about using your visual skills. And I guess you like to learn what you can do to stay in the practice.
I've summed up 7 causes that may keep you from practicing and employing your visual skills, as well as what you can do to shift back into the learning.


The 7 factors that easily stop you from practicing your visual skills

FACTOR 1 – YOU BELIEVE VISUAL EXPRESSION IS ONLY A FORM OF ART
How about seeing it instead, especially in your work, as a form of communication. This means that when you continue to judge your work in terms of beauty and as a (photographic) representation of the world, you forget that the purpose of visual communication is to enhance understanding. Shift your attitude from creating art work, to being in the question 'does this express what I mean to say?'
FACTOR 2 – YOU MISTAKE INTERPRETATION WITH OBSERVATION
This is a big one when for instance practicing drawing objects or people around us. Interpretations about what you see don't give you the actual clues to direct your pencil on paper. Clear observations do. For example: Do you draw a flying bird or do you draw a bird with the wings spread out near a cloud?
FACTOR 3 – YOU TAKE TOO LITTLE TIME FOR OBSERVING AND TOO MUCH FOR DRAWING
Yes it is possible you have a photographic memory and can hold the image of what you have seen much longer in your brain than others. For most people however, their brain does not have that ability and so it is needed to look at an object much longer to capture the actual shapes they contain. The ratio I have learned from my professors at the academy of art, is about 1:10.
FACTOR 4 – YOU WANT TO GO FASTER THAN YOU CAN
Although challenging yourself to stay on your learning edge may be a helpful intention, pushing yourself to do something you can't yet, will not lead to any desired results. Slow down. Draw a little slower, take a few seconds more to put down on paper what you see in your brain.
FACTOR 5 – YOU HAVE TROUBLE DRAWING COMPLEX OBJECTS

This leads to quick frustration, right? But when you become good at taking things apart, you will see from which basic shapes the object is made. That helps you break down into pieces and can assemble it back together, you ease up the process of putting down on paper what you see.
FACTOR 6 – MAKING VISUALS MORE DETAILED THAN NEEDED
With too much detail, your visual becomes complex, perhaps too complex for you to draw, or it takes you too much time to draw. The big question you need to ask yourself is 'what is the level of detail needed for my object to still be recognizable?' When you learn to simplify, your stress level decreases and your visuals become more clear – especially for those who sit away further from your flipchart stand.
FACTOR 7 – YOU PRACTICE TOO LITTLE
Sure, I think you have heard it quite a bit already that practice makes progress. And you keep hearing it because it is true and the practice never stops in my view – or at least not for as long as we choose to employ any specific skill.
MAIN INSIGHTS
1 >

Visual expression is NOT a form of art but of communication

2 >

Understand the difference between interpretation and observation

3 >

Observe longer than the time you take to draw


4 >

 Slow down

5 >

 Learn to take things apart and become good at assembling

6 >

Simplify what you draw by loosing the right details

7 >

Practice, practice, practice
Which of these factors stop you from practicing?
Please share your reflection with me in the comments.

Practicing is actually a lot of fun. And when done in a constructive way, small steps build up on getting easier about it and prepare your brain for letting creativity to flow.
During the Visual Skills Summer Fest Slovenia last week, Pam Welsby, founder and CEO of Fast Forward International said:
"I decided to attend the Visual Skills Summer Fest Slovenia as I was already participating in a modular Visual Facilitation program with Mireille and felt this would be good way to practice what I was learning. It was a very enjoyable, relaxing and creative day, collaborating with like-minded people and gaining new ideas, tools and techniques. I gained greater confidence in my skills, new approaches, new ways of thinking and more practical ideas for using this in our workshops and trainings."
Pam, along with 11 other participants joined this day in Novo mesto. It turned out to be such fun, I decided to facilitate the Visual Skills Summer Fest The Netherlands also on Friday August 23, 2019 in Bleiswijk, while my son and I are in the country for 10 days.
This day, which you can see as a mini holiday for yourself as well, is packed with many different practices and I am going to show you how to look at the world so you can retrieve ideas and inspiration from your environment. Included in the ridiculous price is also lunch with a drink, an afternoon drink and a sketchbook. I just like for you join and have fun together!  

This event is facilitated in Dutch. Do you speak another language or like to invite me to your country to facilitate an event, workshop or training, send me an email at mireille@thevisualcatalyst.com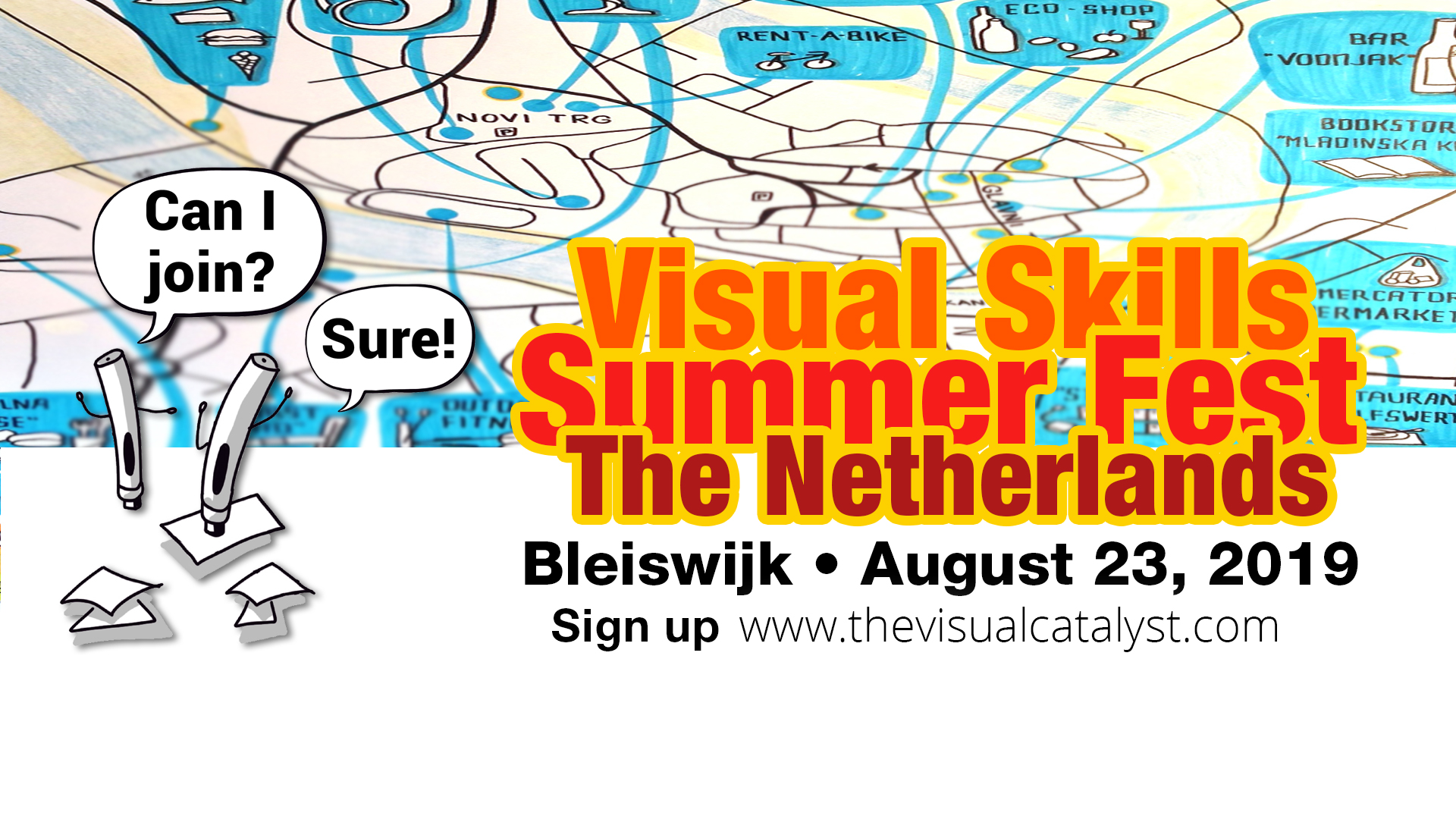 My name is

Mireille van Bremen and I work internationally as a visual catalyst.
Everything

I do as a graphic recorder, visual mediator, facilitator, visual skills trainer and coach, stems from an intention to invigorate creativity and empathy in order to catalyse potential, prevent conflict,
navigate change and stimulate inclusion.
After a career as a design department leader I nowadays work internationally as a visual catalyst to increase the impact of presentations, workshops, strategic meetings and conferences by providing visual translation and by teaching others how to communicate and facilitate visually.
The training programs I design and offer as live as in the online Visual Skills Training academy I founded, help trainers, facilitators, coaches, educators and leaders from all over the world to become resourceful and self-reliant in their communication so they can facilitate impactful dialogues.