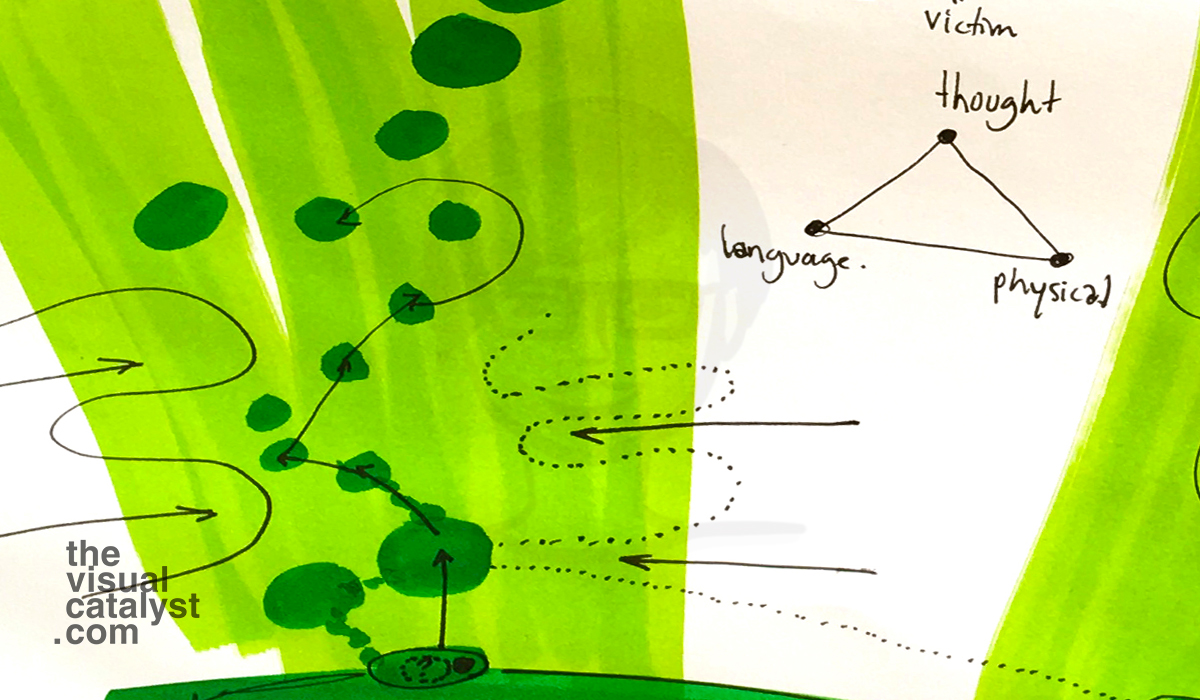 'Can I take a photo of these sketches, so I can recall our conversation in moments I feel down again?'

This is what my coachee asked last week when I coached him. He had a hard time regulating his emotions after a rather sudden break up with his partner with whom he had been in a relationship for a good seven years.

On the side, I don't regularly coach people anymore nowadays, but in the past have been coaching and training people in their communication skills to help them shift their (partner) relationships to a different stage or experience. Every now and then I receive requests for support and as I love helping them SEE how they can stay in their power from a place of self-connection and trust, I gladly take the call.

Why I am pulling this experience into this blog is because it is about that piece '…helping them SEE…' that I find worth sharing with you as a visual practitioner.

The setting in which I helped my client see what was going on what in a coaching setting, yet in the same way this may happen in any conversation (we a box of markers on the dining table!) or training setting. Supporting your conversation in a visual way has several advantages for you and for the person(s) you are speaking with.

When you communicate visually in your coaching sessions, your clients feel supported even after your session has finished.


7 benefits of visual expression that help you and you coaching client

BENEFIT 1 –

YOU SHOW YOU ARE FULLY AVAILABLE TO YOUR CLIENT
With a piece of paper on the table as the bridge between the two of you, you are visually and unmistakably at the other end of the line. If you haven't yet worked this way, try it and you will find out, that you are less distracted and more available to your client. 
BENEFIT 2 –

YOU STAY FULLY PRESENT
This is a bit of a follow up on the previous benefit. Because you and your client speak with visual support you don't only track the conversation better, the paper also helps you stay focused on what you are talking about. It might even happen that you start seeing the road ahead, yet decide not yet to say anything in order to stay with your client where they are at. The visual support helps as a reminder to possibly address it later – if still relevant and important.
BENEFIT 3 –

YOUR CLIENT CAN RESPOND AND ADD TO WHAT YOU VISUALLY REFLECT AND PRESENT
Because you visually reflect your understanding, your client can verify if what you reflect back is really true for them. If it turns out different, change it, if something is missing, add it.
BENEFIT 4 –

YOU CAN VISUALLY REFER TO PARTS YOU HAVE ALREADY TOUCHED UPON
No need to ask, 'Do you recall what I said about that?' Being able to point to a specific part of the conversation. 
BENEFIT 5 –

YOU HAVE A VISUAL TO GIVE AND TAKE HOME
At the end of the session you've got something tangible to give (photographed) to your client which can help them recall after the session what you spoke about. 
BENEFIT 6 –

YOU STIMULATE INTEGRATION
By giving something to bring home, your client is stimulated to integrate the process or insights. It's something most of my clients hang on the wall because it creates momentum.
BENEFIT 7 –

YOU INCREASE RETENTION
If you touched upon anything your client can learn from, being able to see it again and again, at least some quick notes of something you taught them, gives more opportunity for the learning to last.
MAIN INSIGHTS
1 >

You show you are fully available with your client

2 >

 

You stay fully present

3 >

Your client can respond and add to what you sketch


4 >

You can visually refer to earlier parts of the conversation

5 >

You have a visual to give and take home 

6 >

You

stimulate integration

7 >

You

increase retention
Which of these advantages are beneficial to you and/or coachee?
Please share your reflection with me in the comments. 
How would it be for you if your conversation partner or coachee could support themselves better in between the sessions?
How would it be for you if you could speak more visually during your conversations?
On September 23 & 24, I facilitate my training "With Visual Facilitation for More Autonomy" in Gouderak, The Netherlands, where I help you learn how to speak visually in your coaching sessions and conversations.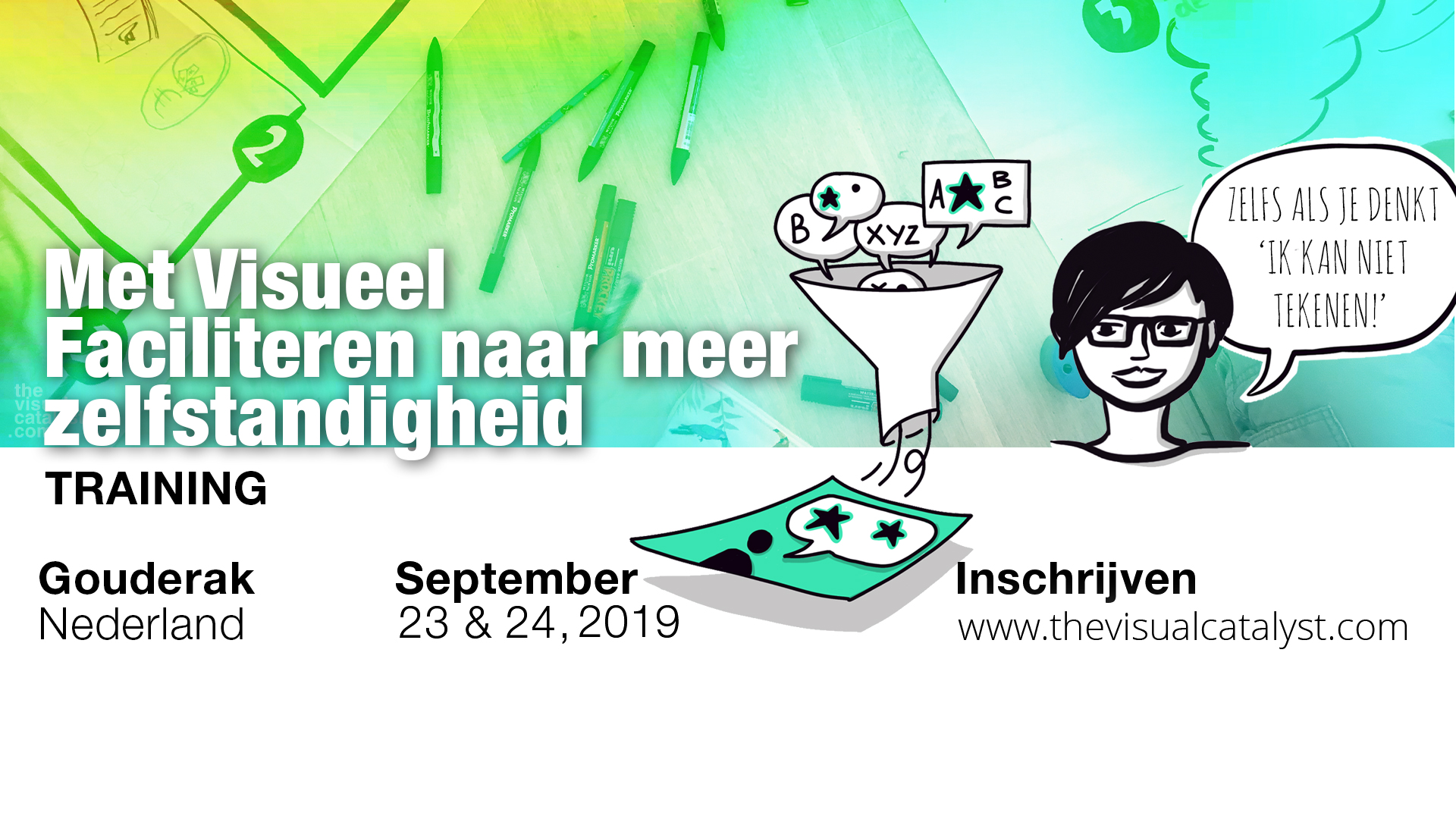 My name is

Mireille van Bremen and I work internationally as a visual catalyst.
Everything

I do as a graphic recorder, visual mediator, facilitator, visual skills trainer and coach, stems from an intention to invigorate creativity and empathy in order to catalyse potential, prevent conflict,
navigate change and stimulate inclusion.
After a career as a design department leader I nowadays work internationally as a visual catalyst to increase the impact of presentations, workshops, strategic meetings and conferences by providing visual translation and by teaching others how to communicate and facilitate visually.
The training programs I design and offer as live as in the online Visual Skills Training academy I founded, help trainers, facilitators, coaches, educators and leaders from all over the world to become resourceful and self-reliant in their communication so they can facilitate impactful dialogues.